Sidecar and Trike Wheelchair Restraints
---
Regardless of which country or state we live in, and regardless of laws and regulations, restraints are safer and should be fitted to all wheelchair accessible sidecars.
In the following crash test video, you will see that the safest method of restraining a wheelchair and it's occupant, is four attachment points and a seat belt.
1. No Securement
2.Using Only Two Securement Straps
3. Using Four Staps Correctly Attached & Tensioned
4. No Occupant Seat Belt
5. Wheelchair Safety Belt Only
6. Pelvic Safety Belt Positioned Too High
7. Pelvic (Lap) Correctly?Positioned
8.Pelvic & Shoulder (Lap & Sash) Correctly Positioned
9. Different Chair Types
Wheelchair Tie Down Strap and Occupant Securement Examples
---
As a Wheelchair Accessible Sidecar user, I will explain why retractable straps are a necessity. The length of a sidecar is short from the front to the rear. Therefore, unlike a Wheelchair Accessible Van, the length of the lashing straps must be short or the straps would be vertical when attached to a wheelchair. This is why Over Turn Buckles are not suitable for a sidecar or trike. For this reason, I will only provide examples of retractable lashing straps.
QRT MAX L-Track 4 Retractor Kit
---
This is what I use in my Wheelchair Accessible Sidecar. They are so easy to use. I just hold down the button to extend, attach to the wheelchair and let go of the button. Too easy.
Another reason I chose this Tie-Down is because it is designed to bolt directly to the sidecar floor, removing the need for L-Track to be fitted. I have nothing against L-Track, it was just a personal choice. I used 1/4″ steel plate either side of the floor with high tensile bolts and nyloc nuts. They passed the Department of Transport inspection and are crash tested to meet International Standards. Click Here for more details
The attachment lug with the L-Track assembly removed.
Designed for Transit & Para-transit Buses

Crash tested at 30 mph (50 km/h)

J-Hook ends attach to most mobility frames

Meets or exceeds all SAEJ2249, ISO 10542, FMVSS 209,210,302,222, cmVSS 209, CSA Z605, AS2596 and ADA requirements
Learn how the QRT MAX for L Track can provide you safety and peace of mind:
Floor Mounting L-Track
---
Pickup Truck & Trailer Cargo Tie Down L-Track Rail
This is the track we use in our Toyota Hiace Van to secure our daughter's wheelchair and commode. Easy to clean, I just use a banister brush to sweep the sand out and easy to click the straps in and out.
Learn how the Cargo Tie Down L Track can provide you safety and peace of mind:

Qstraint Wheelchair Securement
---
If the wheelchair occupant would like to travel on their own and do not have an assistant to secure the wheelchair tie down straps, a Q-Straint Docking System is ideal for the purpose. These are used when the person in the wheelchair is the rider of the motorcycle, such as a trike or chair driven sidecar.
EZ Lock Sidecar Trike Wheelchair Lock Down – Floor Restraint System
Sidecar Lap Seat Belt
---
A sidecar generally does not have a side wall tall enough to fit a shoulder seat belt. For this reason, you will usually be unable to install a Q-Straint Lap and Sash (3-point) seat-belt. We fitted a Van seat-belt to our sidecar to secure the occupant around the waist.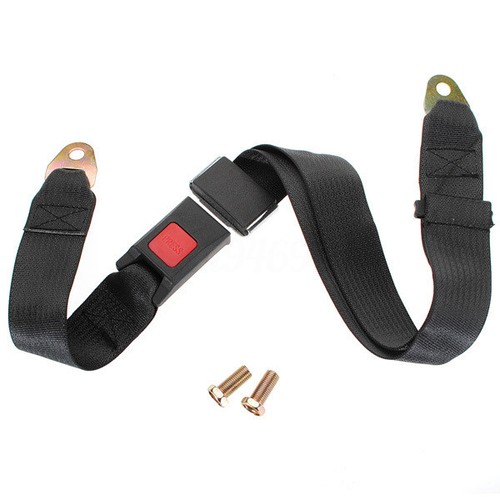 To view the current price and secure an occupant seatbelt restraint for your sidecar passenger:
Remember that safety should be your first priority. Be sure to read the manufacturers installation requirements before fitting and if necessary seek advice from a qualified engineer if you are unsure. The tie downs have been crash tested and will protect the occupant in the unfortunate event of an accident. However, these safety devices need to be secured correctly to the sub-frame or chassis.
Good luck with your sidecar or trike project and safe riding.
Together we can make this an accessible world.
The Ability Motorcycles website was created to enable the sharing of information and projects to benefit others. If you believe this world should not exclude anyone, and you love motorbikes, then Ability Motorcycles is the place to share that passion.
We like to hear from readers so please leave a comment below and let us know if this post helped you or if you have any questions.
Thank you for visiting Ability Motorcycles. Dave