Our
production times vary depending on the time of year. Please reach out
to us so we can provide an approximate shipping date. The Best Buddy is an extremely popular product and we do sell out often. Order now to
ensure you get your trailer when you need it.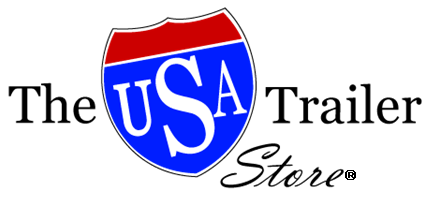 My Best Buddy Cargo Trailer XL
Spend Time. Save Money.
Shipping Starts at 169.00
BRAND NEW Cargo Trailer for 2 wheels, 3 wheels, or 4 wheels
You asked for it, so you got it!
LED Tail Lights
Chrome Coupler
Tongue Stand
Our competitor charges extra for features which come standard on our trailer:
12″ Aluminum Wheels – Standard
Torsion Axle – Standard
We know that getting away and traveling with family and friends is PRICELESS, but we believe that getting there shouldn't be. That's why we created a spacious cargo trailer that is a muscular, HIGH QUALITY,
and
Economical alternative to our competitors' product:
My Best Buddy Cargo Trailer XL.
The chassis of
My Best Buddy Cargo Trailer XL
is formed from durable aluminum, and the
18
cubic foot cargo box is constructed from High Density Polyethylene (HDPE). This combination of materials makes
My Best Buddy Cargo Trailer XL
not only light weight, but also TOUGH!!! Less weight means less money spent on gas, and that means more money to spend on making memories.
Using a 1-7/8″ Coupler, My Best Buddy Cargo Trailer XL can be pulled behind:
Motorcycles
ATVs
SUVs
Cars
Vans
Trikes
Construction Equipment
FEATURES:
Corrosion Resistant Aluminum Chassis

Light weight High Density Polyethylene (HDPE)-

helps reduce fuel cost

Easy Access Side Opening

High Quality Stainless Steel Locks

Spring Loaded Hinges that hold the top when you load and unload your trailer

Water Resistant Sealing Gasket

LED Lights

Safety Chains

Tongue Stand

1 Piece Torsion Axle –

smoother ride

12″

Aluminum

Wheels!!!

CHROME Coupler

Full 18 Cubic Feet of Storage

4 Pin Male Flat Connector

High Quality Materials and Construction

Perfect for Camping Equipment, Luggage, Groceries, Band Equipment, Lake Gear, Small Furniture Pieces…

Spare tire? We feel that a spare tire mounted anywhere on the trailer is obtrusive. Not only does it distract from the appearance, but it also creates additional aerodynamic drag.
Just a thought: Do you carry a spare on your motorcycle?
Sleek, Aerodynamic Design –

helps reduce fuel cost

Diamond Plate COOLER RACK* –

ABSOLUTELY FREE

!!!!!
We have received such an overwhelming response to this fantastic product that we want to give something back in return. So, My Best Buddy Cargo Trailer XL now comes with a diamond plated Cooler Rack*. This is a $49 value, and it's yours – absolutely FREE!
It's just our way of saying "thank you!"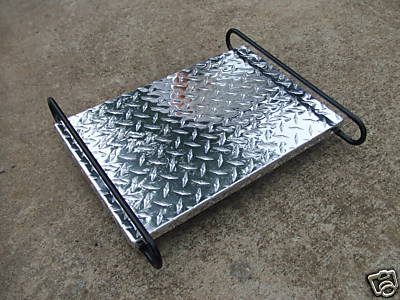 Cooler Racks also sold separately.
Specifications:
Overall Dimensions
Length – 76″
Width – 55″
Height – 38.5″
Box Dimension
Length – 52″
Width – 38″
Height – 18″
Additional Dimensions
Tongue Length – 32″
Clearance to the bottom of the axle – 11.5″
Chassis Clearance – 17″
Tire Size – 5.30-12
Tire Pressure – 80 psi – Cold
Empty weight – 153 lbs
Maximum Load Capacity – 300lb
Cooler Rack – 17.75" (L) x 11.75" (W) x 1" (H)
If you do not have a PayPal Account,
We can accept your credit or debit card over the phone.
We Also Proudly Accept: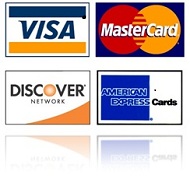 *A full 18 Cubic feet of Storage Space*
1 Year Manufacturer's Warranty
Paperwork ready to register in all 50 States
Flat rate shipping does not apply to points in HI and AK
All applicable taxes and fees associated with the purchase, financing, registration, title transfer, and/or licensing this item are the responsibility of the buyer. Trailers are considered motor vehicles. These fees will be paid to your state's DMV at the time of registration.
Please read our feedback, and buy with confidence. Complete line of parts available
Feel free to contact us with any additional questions or comments.
Thank you in advance for your business.
14 DAY RETURN POLICY
We accept returns on new products only within 14 days from the date of purchase.
· Product must be returned untitled, unused and in new sellable condition
· You must contact us to obtain a return authorization number. Unauthorized returns will be refused.
· Customers are responsible for shipping both ways (Shipping is non-refundable). If the item you purchased had free shipping, then the actual shipping cost will be deducted from your refund.
· All returned items are subject to inspection for damage before refunding.
Shipping Information
The item will be shipped via a trucking service to your physical address. For an exact shipping rate please reach out to one of our qualified sales associate. (Also available for pickup at our warehouse(s) at no additional charge)
NOTE: Please inspect all packages upon delivery. Any damages or shortages MUST be noted on the Bill of Lading at the time of delivery. Notify the carrier and The USA Trailer Store™ immediately, and we will assist you as fully as we can. Please retain a signed copy of the bill of lading for your records. Note that the carrier will make a final determination on all claims.
Unless you are picking up from the our carrier's terminal, the carrier will use an 18 wheeler when making the delivery of your item. The 18 wheeler must be able to access your home or business. If an 18 wheeler is unable to access the place of delivery then you will be required to pick up from the trucking company's terminal. If delivering to a place of business, the business must be open and staffed Monday through Friday between the hours of 9 AM and 5 PM. If delivering to a residence the trucking company will make a delivery appointment. If the business is not open at the time of delivery, or if a delivery appointment is missed, then you will be responsible for a redelivery fee.
In addition to the return policy all items sold by The USA Trailer Store do carry a warranty. Warranties vary by product. Should you find the need for assistance with a defective item then please feel free to contact us so that we may honor this warranty.
***To best maintain the integrity of the trailer, My Best Buddy Cargo Trailer XL is shipped – and will arrive – disassembled.***
***Easy to follow instructions are included, and assembly will only take approximately 2 hours.***
TowBlazer, Inc. d/b/a The USA Trailer Store