Description
The chassis of My Best Buddy Cargo Trailer XL is formed from durable aluminum, and the 18 cubic foot cargo box is constructed from High Density Polyethylene (HDPE).  This combination of materials makes My Best Buddy Cargo Trailer XL not only light weight, but also TOUGH!!!  Less weight means less money spent on gas, and that means more money to spend on making memories.
FEATURES:
Corrosion Resistant Aluminum Chassis
Light weight High Density Polyethylene (HDPE)- helps reduce fuel cost
Easy Access Side Opening
High Quality Stainless Steel Locks
Spring Loaded Hinges that hold the top when you load and unload your trailer
Water Resistant Sealing Gasket
LED Lights
Safety Chains
Tongue Stand
1 Piece Torsion Axle – smoother ride
12″ CHROME Wheels!!!
CHROME Coupler
Full 18 Cubic Feet of Storage
4 Pin Male Flat Connector
High Quality Materials and Construction
Perfect for Camping Equipment, Luggage, Groceries, Band Equipment, Lake Gear, Small Furniture Pieces…
Spare tire?  We feel that a spare tire mounted anywhere on the trailer is obtrusive. Not only does it distract from the appearance, but it also creates additional aerodynamic drag.
Just a thought: Do you carry a spare on your motorcycle?
Sleek, Aerodynamic Design – helps reduce fuel cost
Diamond Plate COOLER RACK* – ABSOLUTELY FREE!!!!!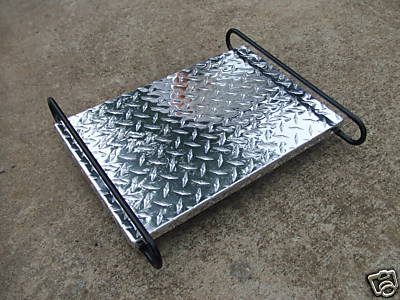 Specifications:
Overall Dimensions
Length – 76″
Width – 55″
Height – 38.5″
Box Dimension
Length – 52″
Width – 38″
Height – 18″
Additional Dimensions
Tongue Length – 32″
Clearance to the bottom of the axle – 11.5″
Chassis Clearance – 17″
Tire Size – 5.30-12
Tire Pressure – 80 psi – Cold
Empty weight – 153 lbs
Maximum Load Capacity – 300lb
Cooler Rack – 17.75" (L) x 11.75" (W) x 1" (H)