2000M Bluetooth

Motorcycle

Helmet Intercom

Inter-phone

8 Riders Motorbike GPS US
Fodsports Newest 2000m M1-S Pro Motorcycle Motorbike 8 Riders Multi Intercom
Bluetooth Helmet Headset Waterproof BT Interphone Wireless Handsfree Headphone Communication System with HIFI Speaker Stero Music For Moto Driving,Skiing,Kartin, ATV,UTV ect.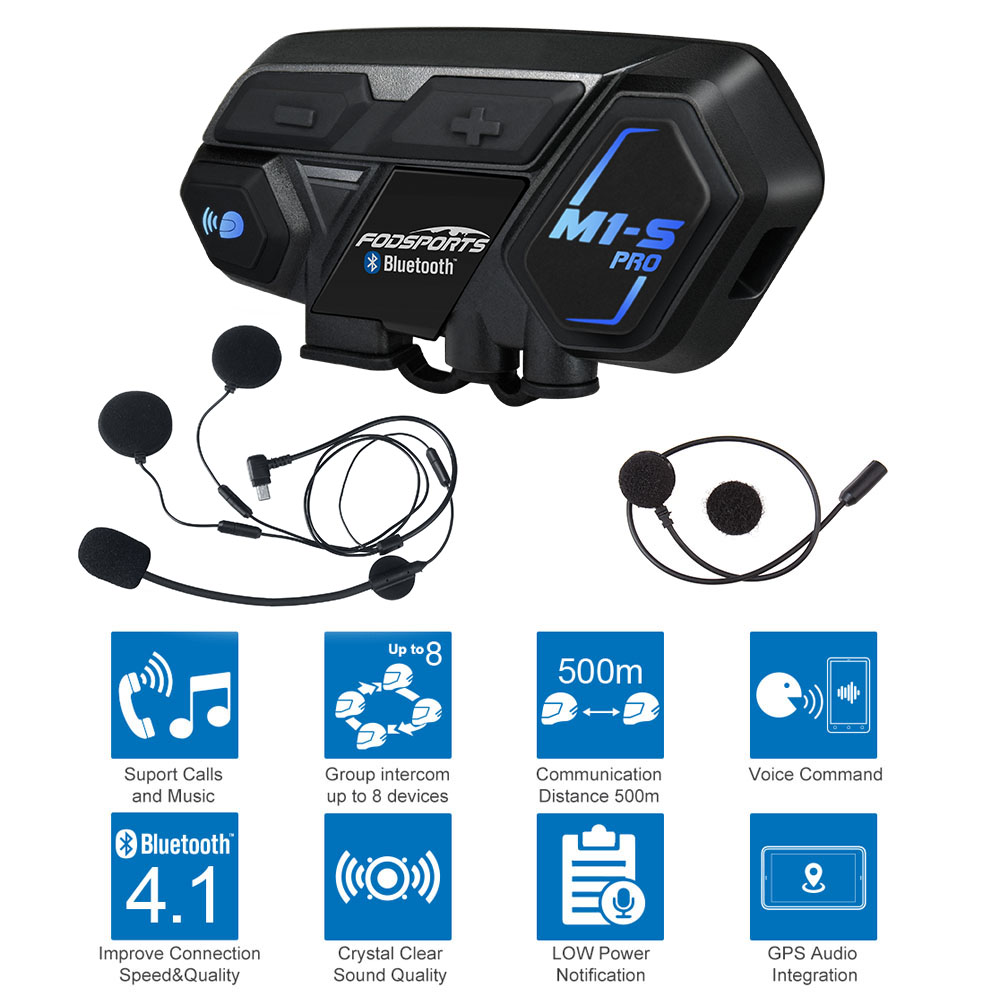 1. 2000M Maximum Distance
M1-S Pro is equipped with

Bluetooth 4.1 version

, It has high compatibility and stability. If there are no obstacles such as buildings in a straight line, the motorcycle helmet intercom maximum communication distance of the group is about

2000 meters

, the maximum effective communication distance between two bicycles is about

500 meters

, both can speak with clear sound quality.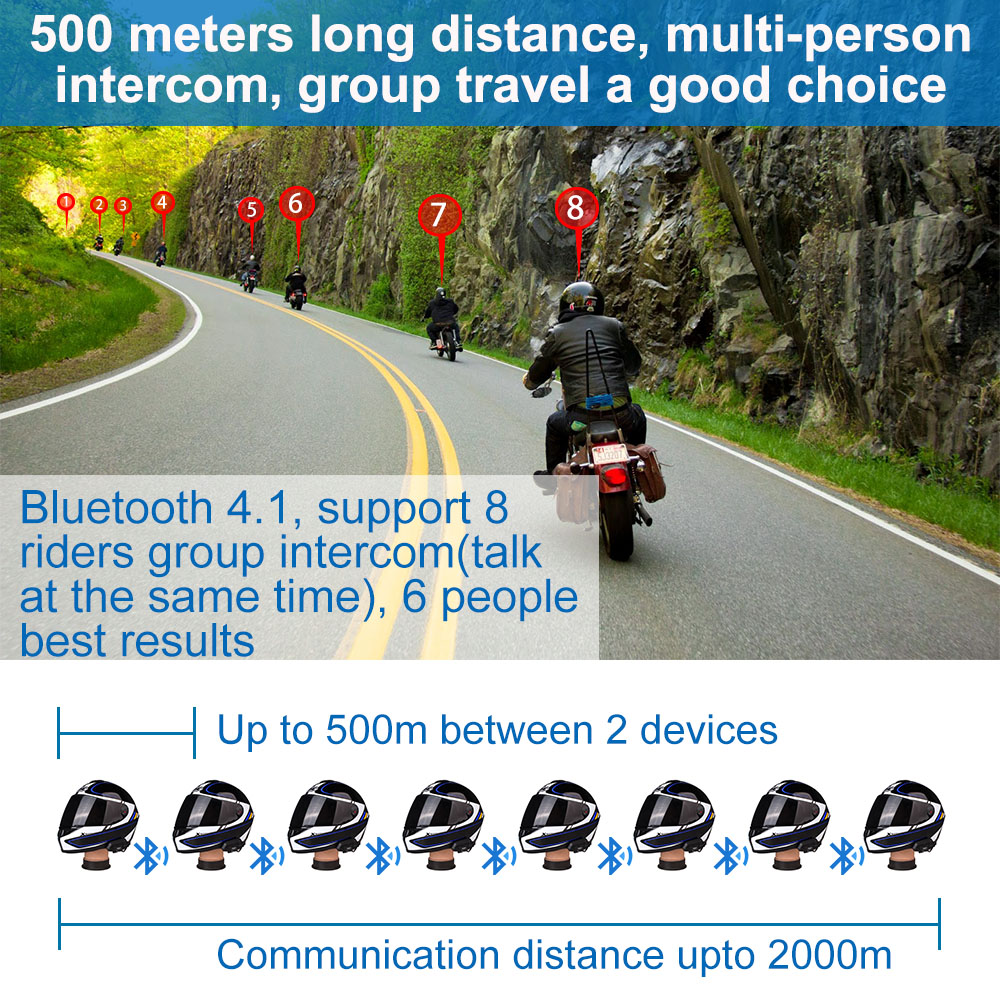 2. Full duplex 8 Riders Group talking with self-healing technology
Full duplex call for group motorcycle headsets system,

Support 8 people simultaneous call ( 4-6 people have best performance)

with self-healing technology. With M1-S Pro headsets, you can ensure hands-free security and convenience, listen to music, retrieve GPS routes, and receive voice commands wirelessly via Bluetooth, let you enjoy racing fun. If one rider leaves group less than 5 minuts, can rejoin riding group seamlessly. If more than 5 minuts, just one-button to rejoin and stay connection easily.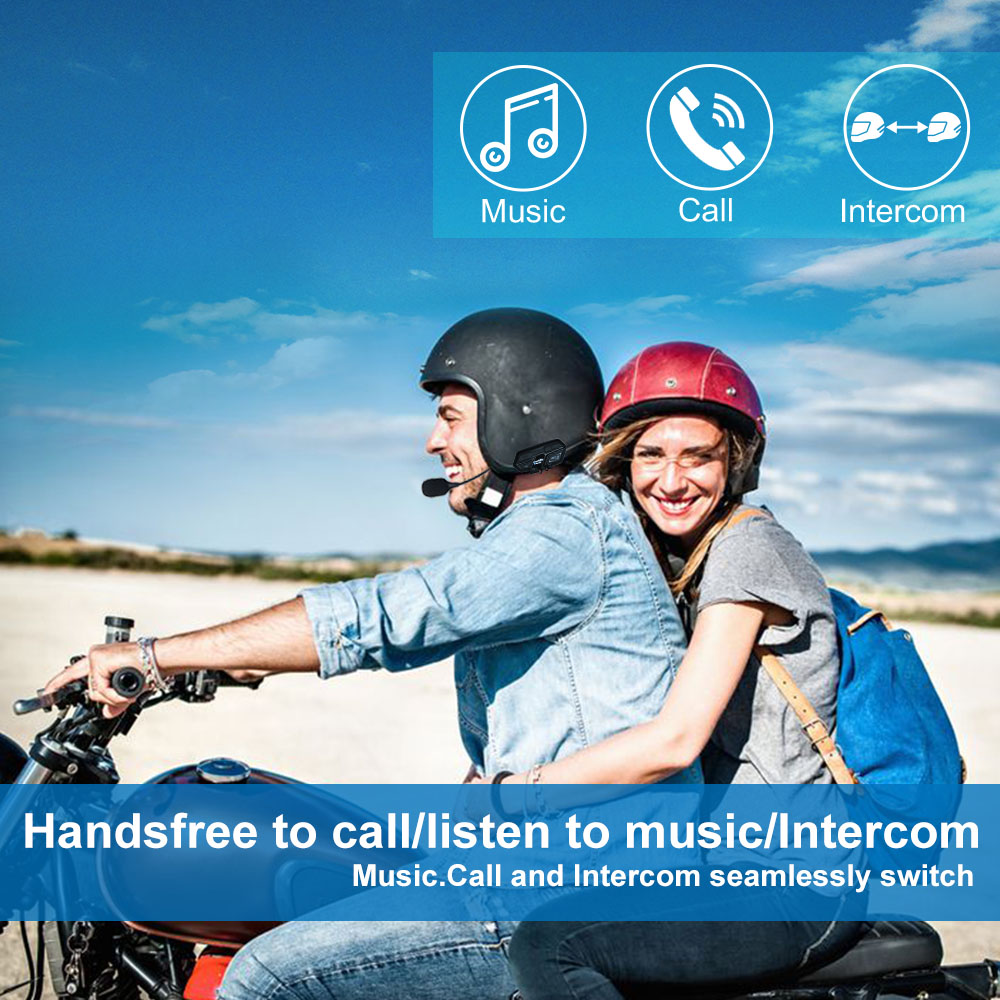 3. Crystal-Clear Sound Quality
This helmet headset intercom uses

high quality full-range membrane monomer

for 30mm speaker. Adopts

CVC tech

reduces noise for both incoming and outgoing audio. It can easily be installed in various narrow liner spaces. Compared to the speakers of other motorcycle headsets, the M1-S has a higher definition

HIFI

sound quality, especially for the bass has a high reproducibility.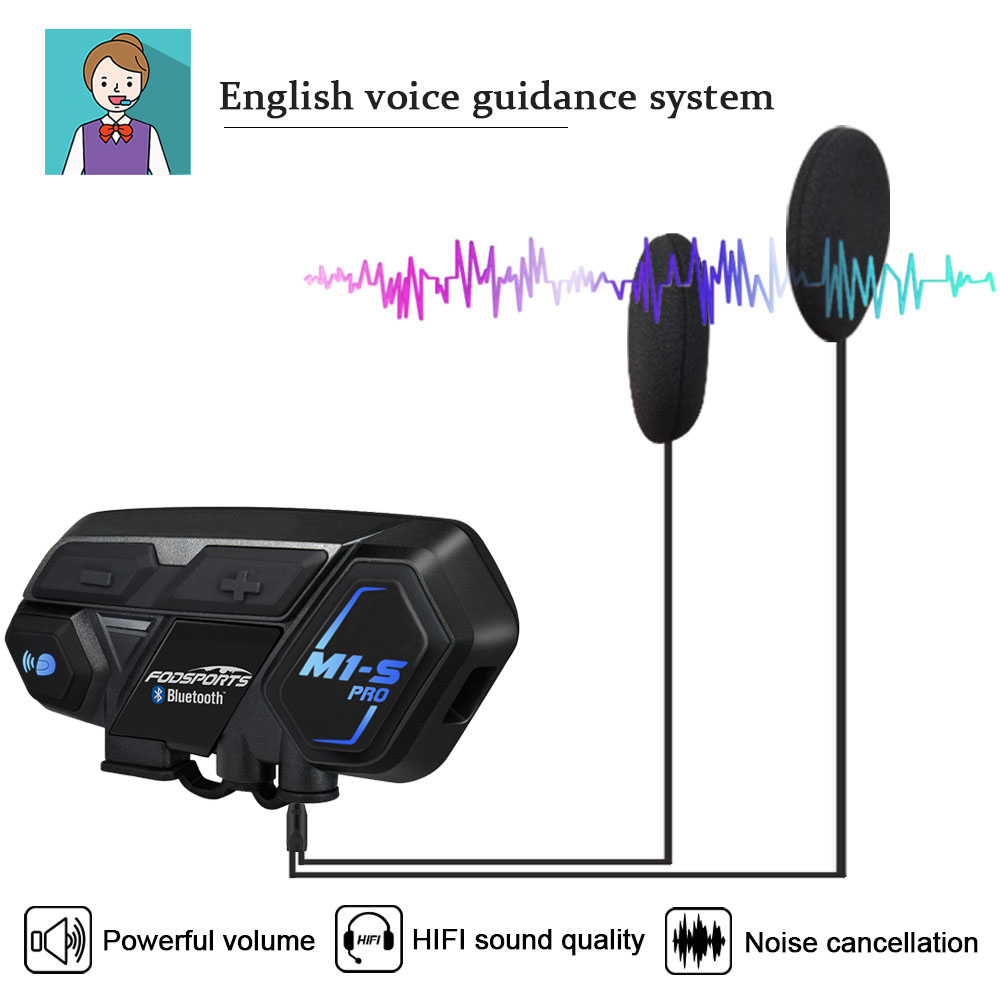 4. Noise Reduction & Waterproof
Since the microphone of motorcycle bluetooth headset has a

CSR chip

, ambient noise such as wind noise and engine noise are not annoying. The voice quality is not affected even at high speeds. Moreover, it is waterproof and dustproof, can be used in any weather conditions.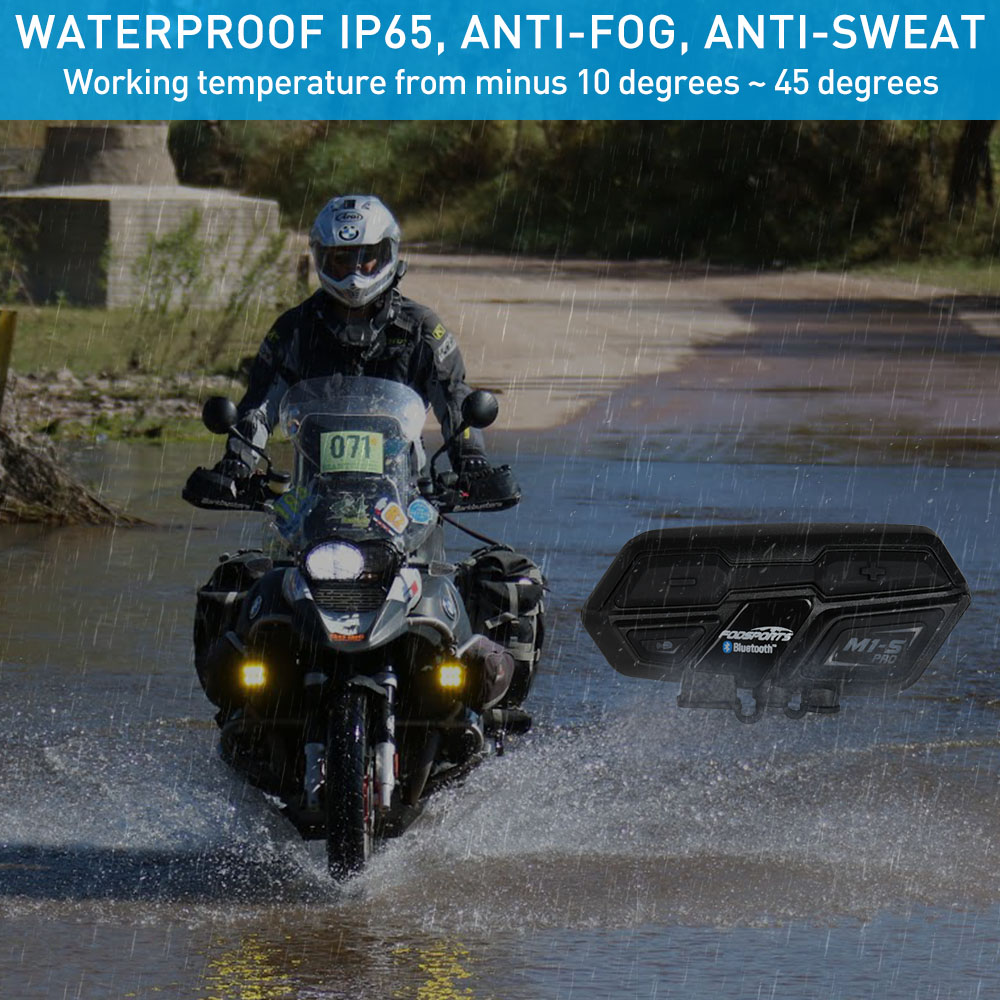 5. Long Standby Battery
The motorcycle helmet communication with 900mAh rechargeable battery, Standby Up to One Week. The duration of the call can be up to 12 hours and the intercom can last up to 10 hours.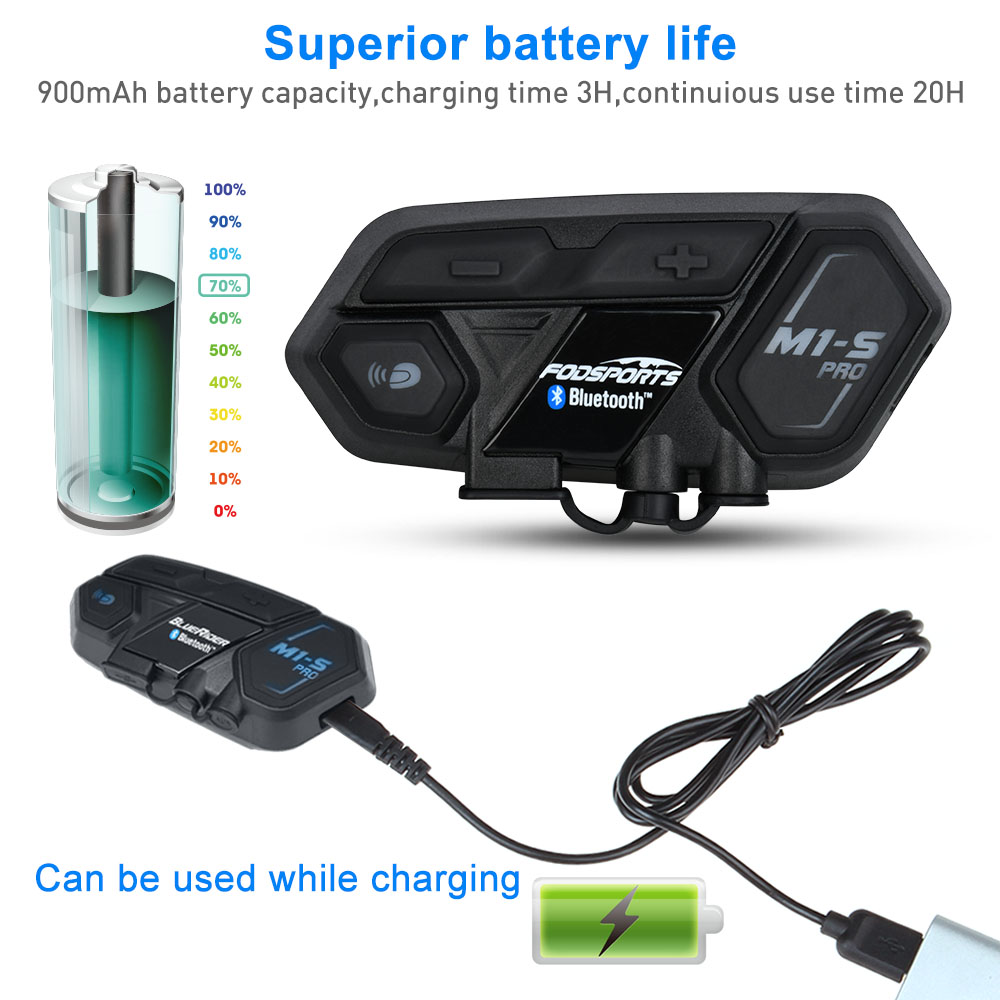 6.Two Options For Microphone
M1-S has hard mic cable and soft mic cable in package, Suitable for all kinds of helmets. You can choose the hard mic for open face helmet, and soft mic for full face helmet.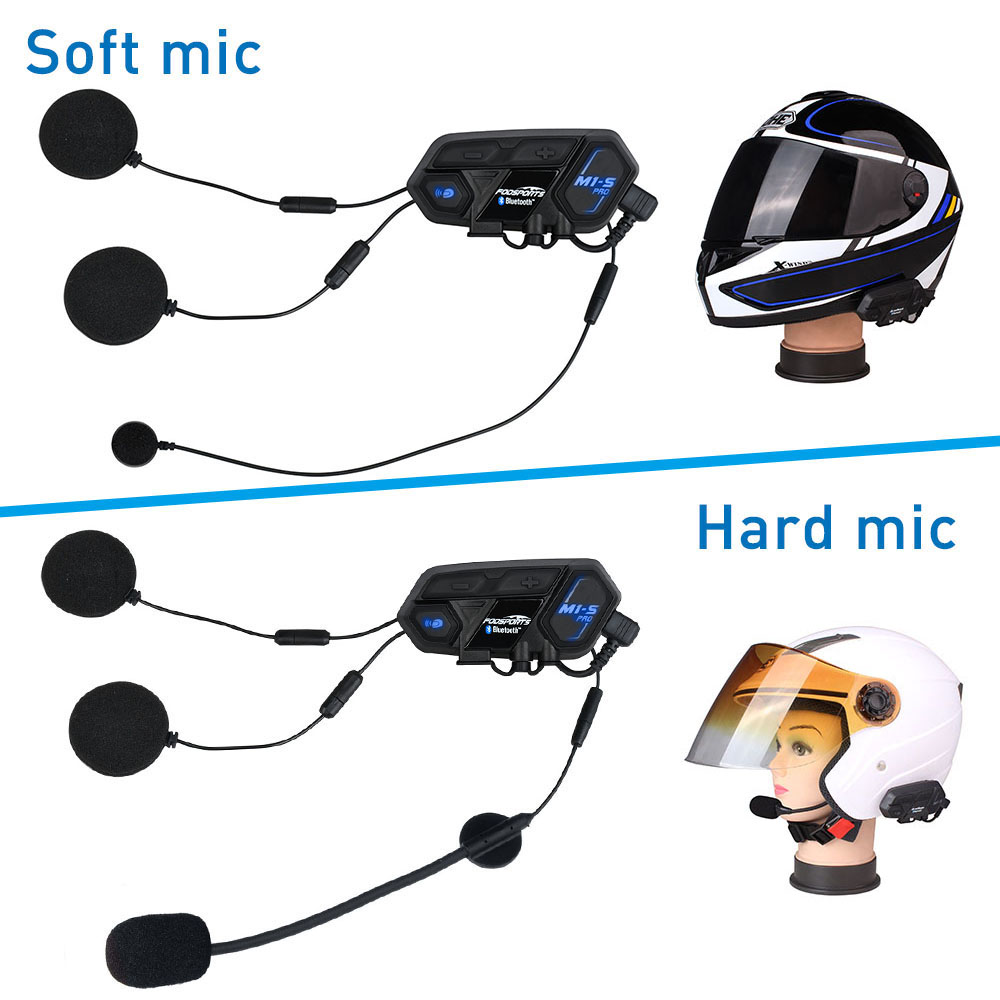 7. Power detection function, low power notification
Recorded voice message will remind you: Power over 90%, power over 50%, power below 50%, power below 10% please charge immediately.
Can be used while charging to ensure long-distance travel.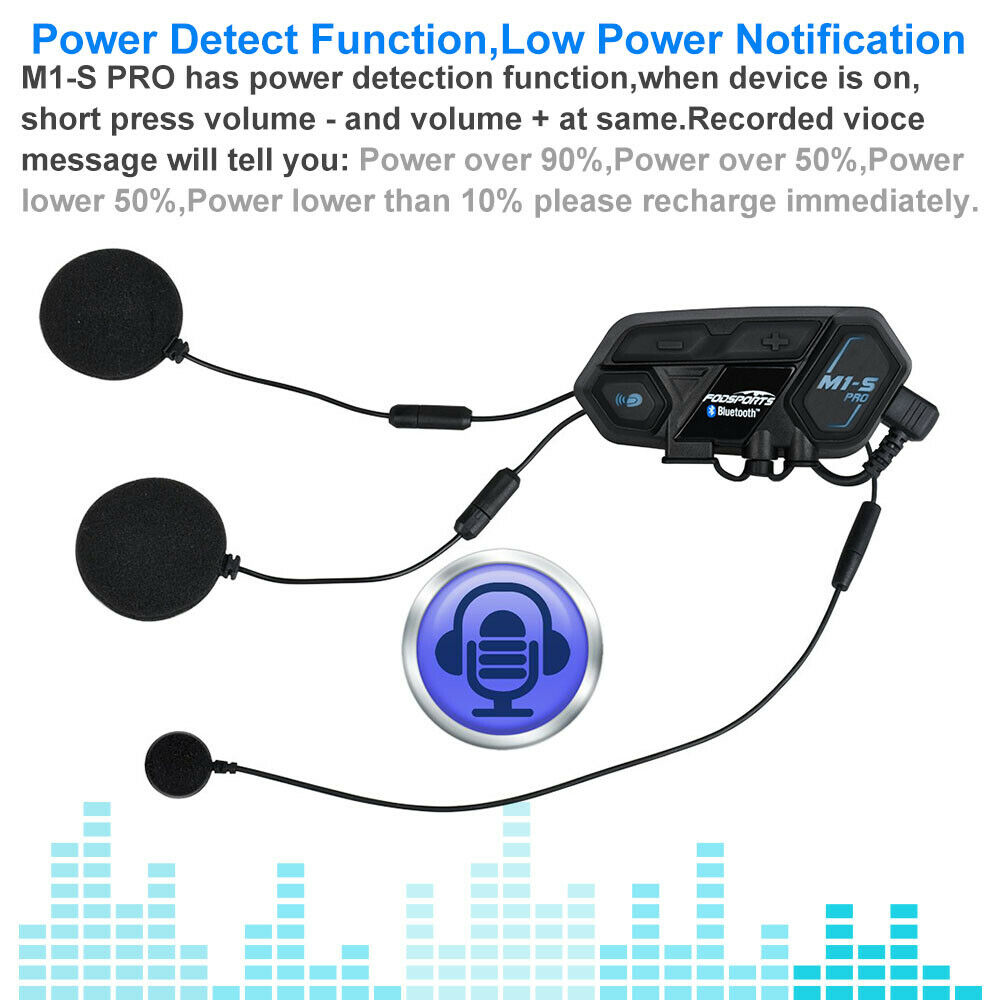 8. Connect equipment via bluetooth
M1-S Pro is equipped with Bluetooth 4.1 version,it support 2/3 cellphones to connect at the same time,make/answer/refuse calls,Voice dail and redail last number,voice command.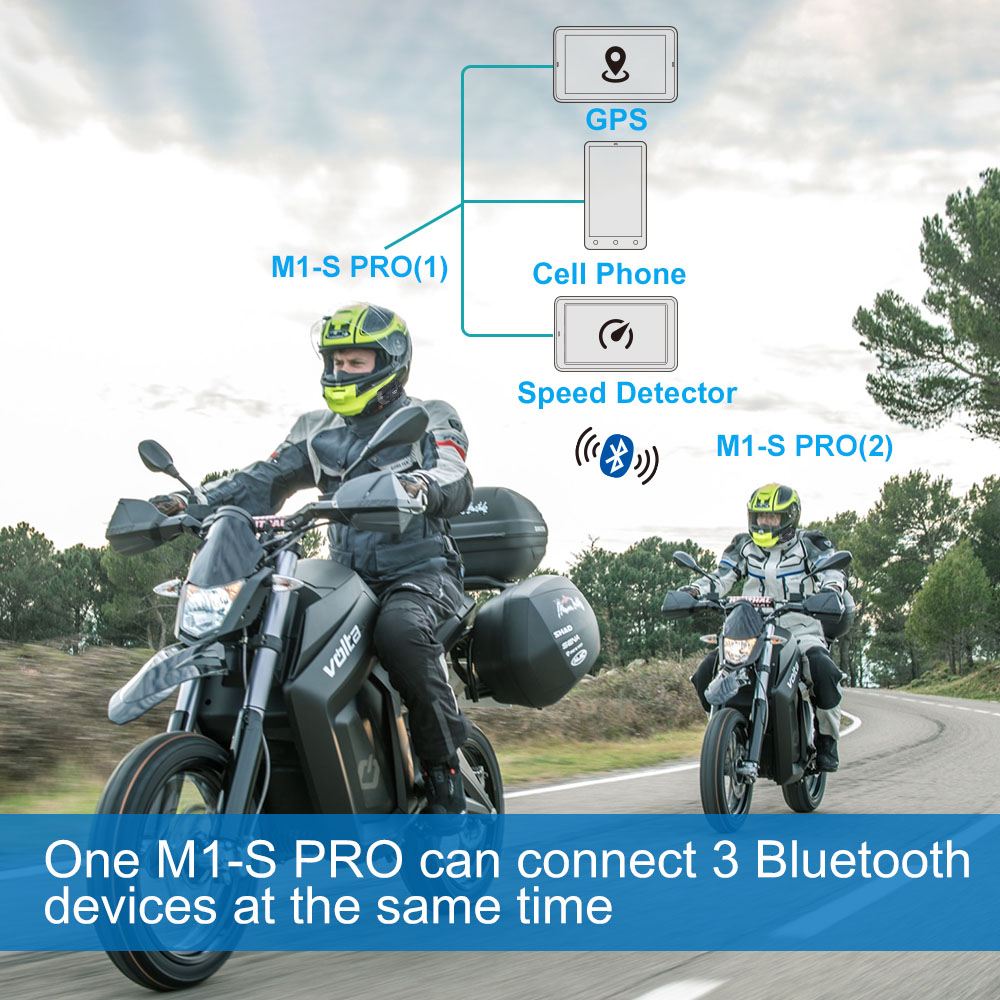 9. Wire connecting
2.5mm to 3.5mm Aux in wire connecting to other device without bluetooth, as long as the device is connected by 3.5mm aux out. Meanwhile, we also offer a control line for connecting this intercom and Walkie-Talkie (package doesn't include this line, buyer need to pay more to get it), with this co-operation, Integrating advantages of this intercom and your walkie talkie.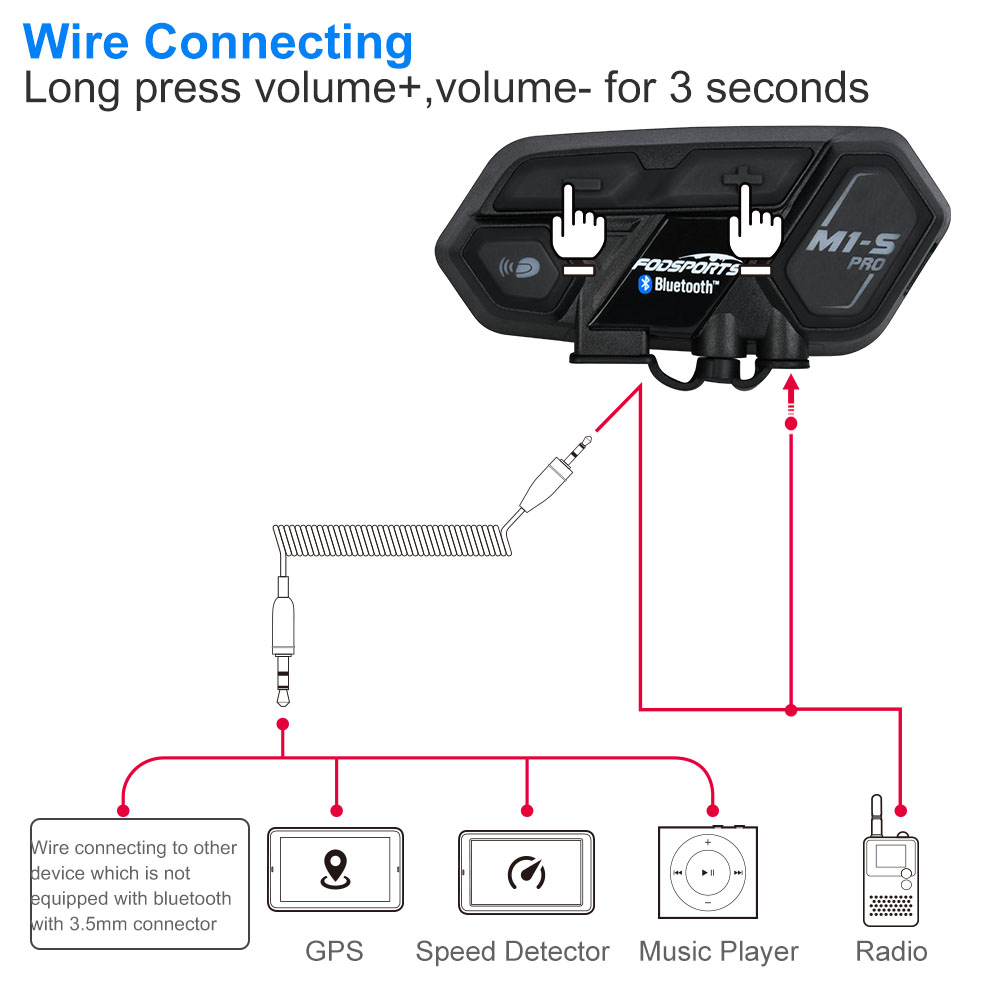 10. Universal Bluetooth Pairing
Universal Bluetooth Pairing model, can connect most of bluetooth headsets or other brand intercom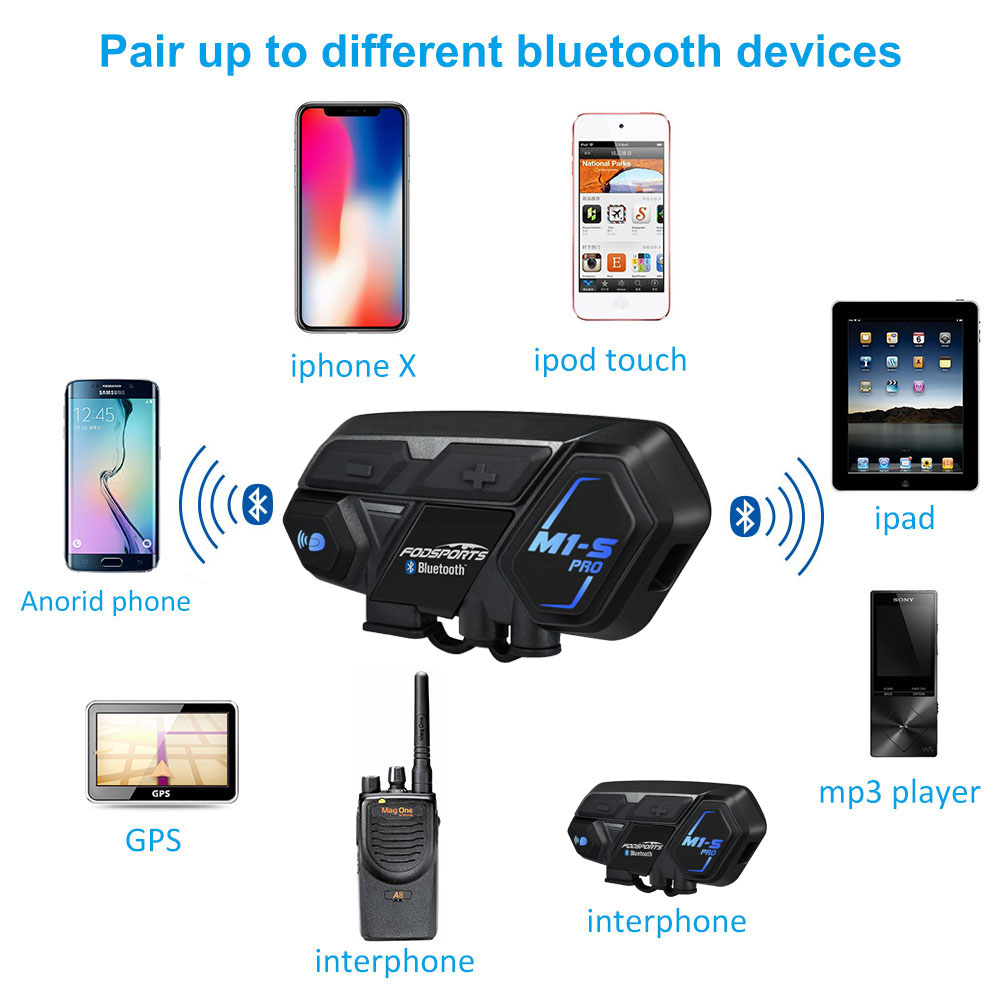 11. Excellent design
Like the concave-convex interface suitable for blind operation. For hands-free calls, One button to answer/hangup/refuse/redial calls . For enjoy music, Easy to play / pause / back / continue, Easy to Handle with Glove-Wearing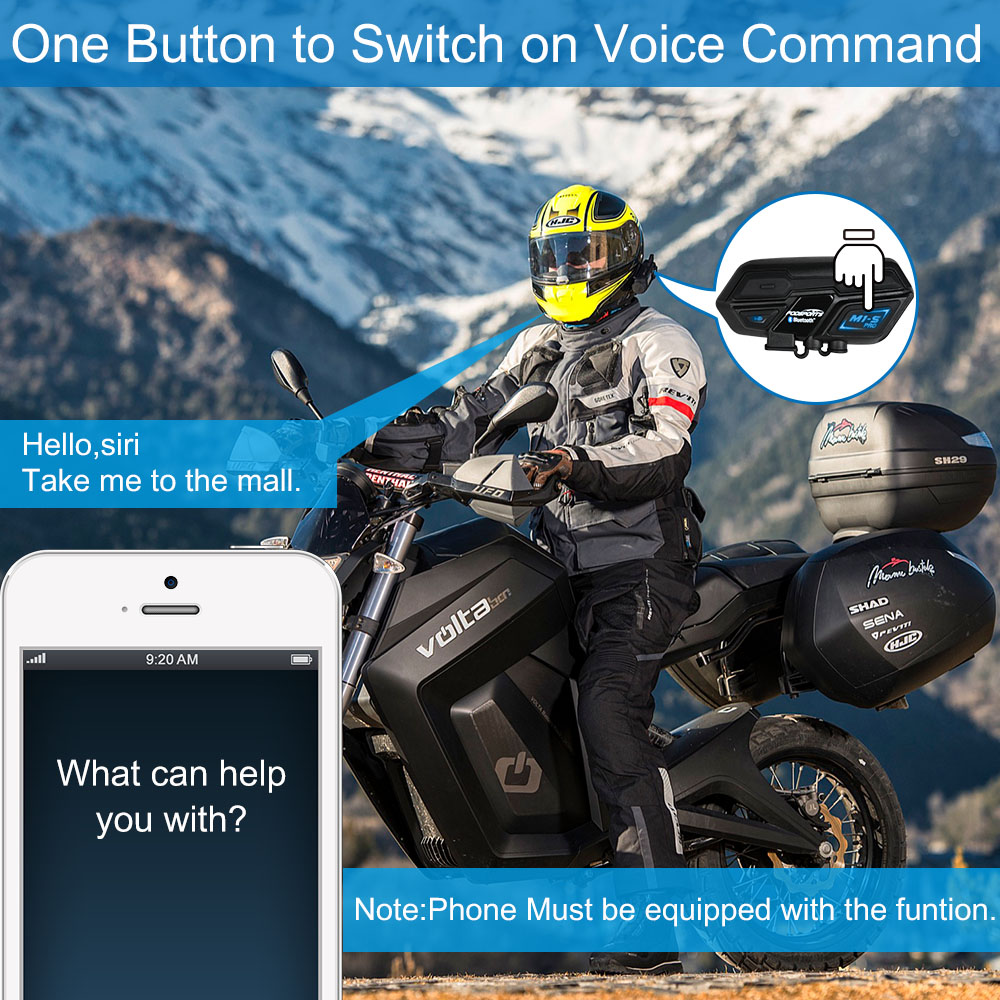 Specification:
– Bluetooth Version: 4.1
– Battery Type: Rechargeable lithium polymer 900mAh
– Standby Time: About One Week
– Operating Time: 12 to 20 hours
– Charging Time: 3 hours
– Power Adaptor: DC5V 500mA
-1 × M1-S Pro
-1 × Speaker and Hard microphone
-1 × Soft microphone
-1 × 2.5mm to 3.5mm cable
-1 × Velco
-1 × Metal clip
-2 × EVA rubber
-1 × Helmet bracket
-1 × USB Cable
-1× User Manual