Fodsports V6 Plus Support 6 Riders Connection + FM Radio + LED Screen Display
You will get soft cable mic & hard cable mic together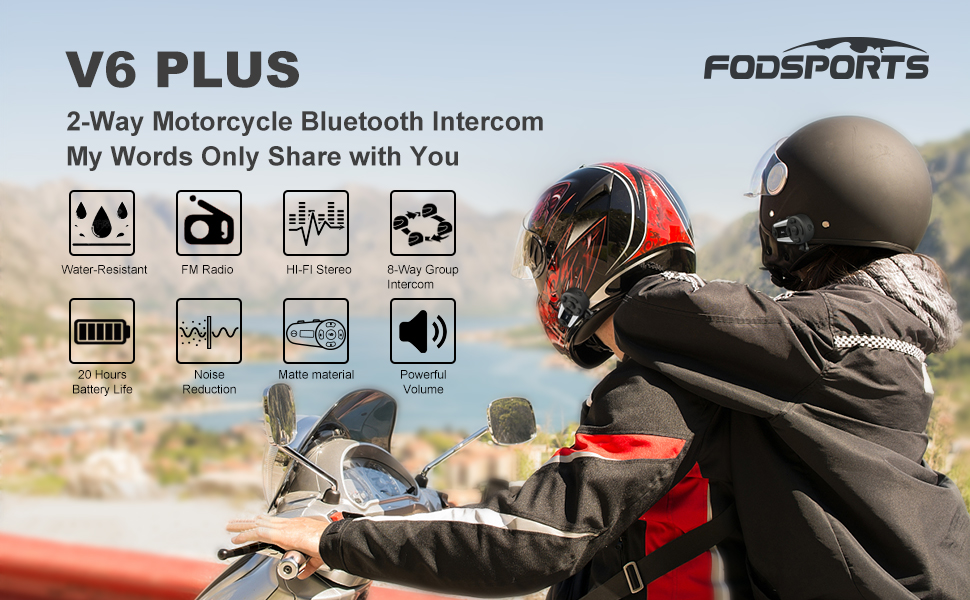 Highlight
【6 Riders Connected & 2 People Toggle Intercom】Bluetooth intercom can paring 6 riders, Rider A can connect with other 5 Riders, then Rider A can choose one of five to talk, If other members( Rider B- Rider F) want to talk with Rider A, he just need to press relevant button A (intercom button), Rider A will hear "dudu" and screen will show intercom, then Rider A just need to double press"Phone"button, they can talk with each other. V6 plus Support up to 120km/h (75mph).

【Hands-Free Operation & OLED Screen】 It supports wireless Bluetooth music streaming and hands-free operation so you can easily enjoy the music or answer / reject the call. This intercom system with

OLED screen helps you easily to know the charging / pairing / paired status.


【FM Storage Function & Memory connects with cell phone 】

Preset and store up 6 FM radio stations

. In FM Radio mode, when a favorite station is found, you could store the FM radio station. Once V6 Plus pairing with cell phone, when turning the power on again, headset will re-connect with mobile automatically. Or in case disconnect during standby mode, short press Phone button will connecting again.
【Noise Reduction & Waterproof】Since the microphone of motorcycle bluetooth headset has a

CSR chip, ambient noise such as wind noise and engine noise are not annoying

. The voice quality is not affected even at high speeds. Moreover, it is waterproof, can be used in any weather conditions.
【Long Standby Battery & Two Options For Microphone】The motorcycle intercom with 850 mAh rechargeable battery, Standby Up to 300 hours. It is working up to 18 hours. V6 Plus has hard mic and soft mic, Suitable for all kinds of helmets. You can choose the hard mic for open face helmet, and soft mic for full face helmet.
Thank you for choosing the FODSPORTS V6Plus(6 Riders Plus)Motorcycle 6 Riders full-duplex stereo Bluetooth wireless helmet headsets, designed for installing into most open-face, flip-front and full-face style helmets
With the V6 Plus, you can call hands-free on your Bluetooth mobile phone, listen to music or voice instructions of GPS navigation, and activate wireless intercom for rider to rider or 1200 meters(depending on terrain conditions) rider to passenger intercom talk within range of The V6 Plus is compliant with Bluetooth.
It supports universal pairing with most Bluetooth headsets on the market.
The user can activate Siri or S-voice from the main unit for voice dialing and other voice commands he FM radio tuner is built into the main unit and allows for station scanning.
1.

6 Riders Connected,2 People Toggle Intercom
2. Max 1200M Talking Distance in 2 Riders
3. Pairs With 3 Bluetooth Devices,
4. Support FM Radio,

Can save the lastest 6 FM channel
5. Voice Command
6. Voice Prompt Function
7.CVC Digital Noise Reduction Function
8. Anti-Noise Mic
9. Waterproof Design
10. 18 Hours Working Time
11. Battery reminder function
Main Features:
1. Wireless Full-Duplex Intercom
2. Automatically Answer Incoming Calls
3. Support Connection of Mobile/MP3/Stereo Music/GPS
4. Suitable Under all Weather Conditions
5. Suitable for Full&Half Face Helmet,

including Soft cable & Hard cable Microphone
6. Easy to Install
7.

With Large Button

, Easy to Handle with Glove-Wearing
8. With Open Bluetooth, Support connect to other Branded motercycle intercom,Such as For SENA
9.
OLED Screen,
easy to connect to others.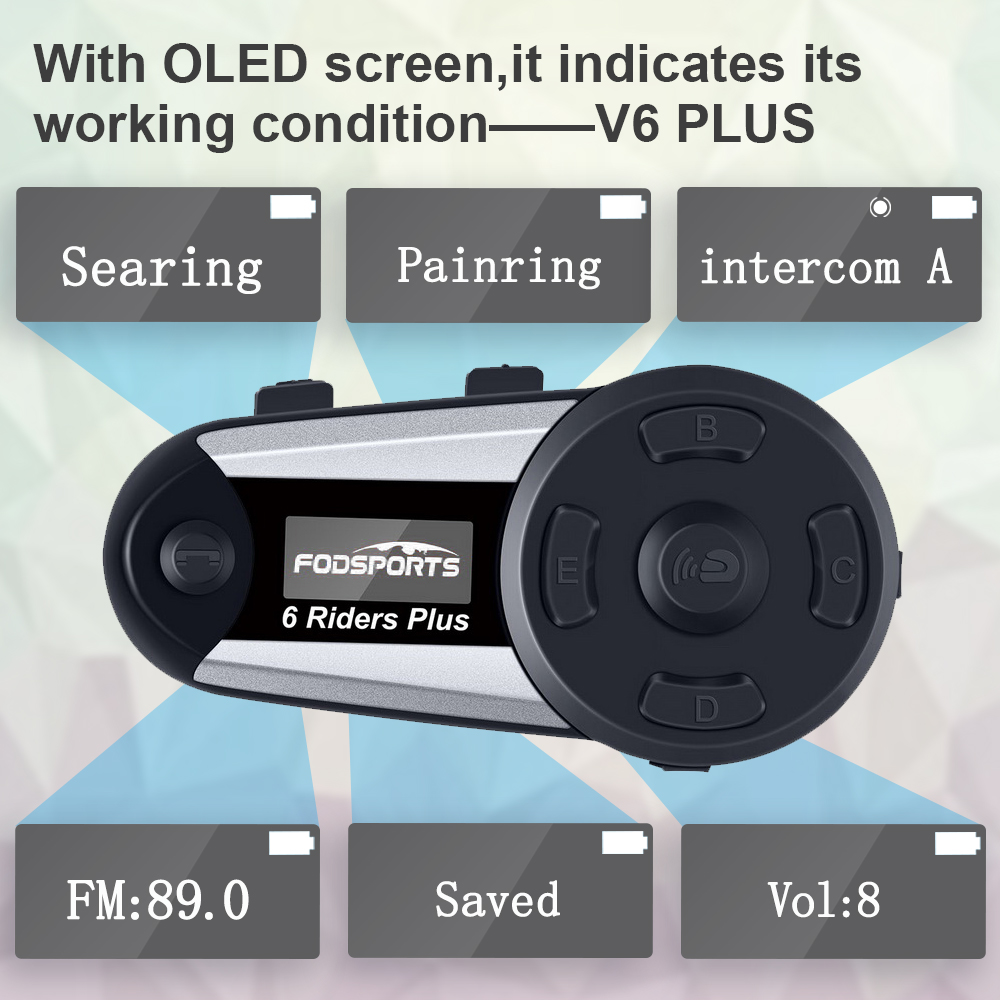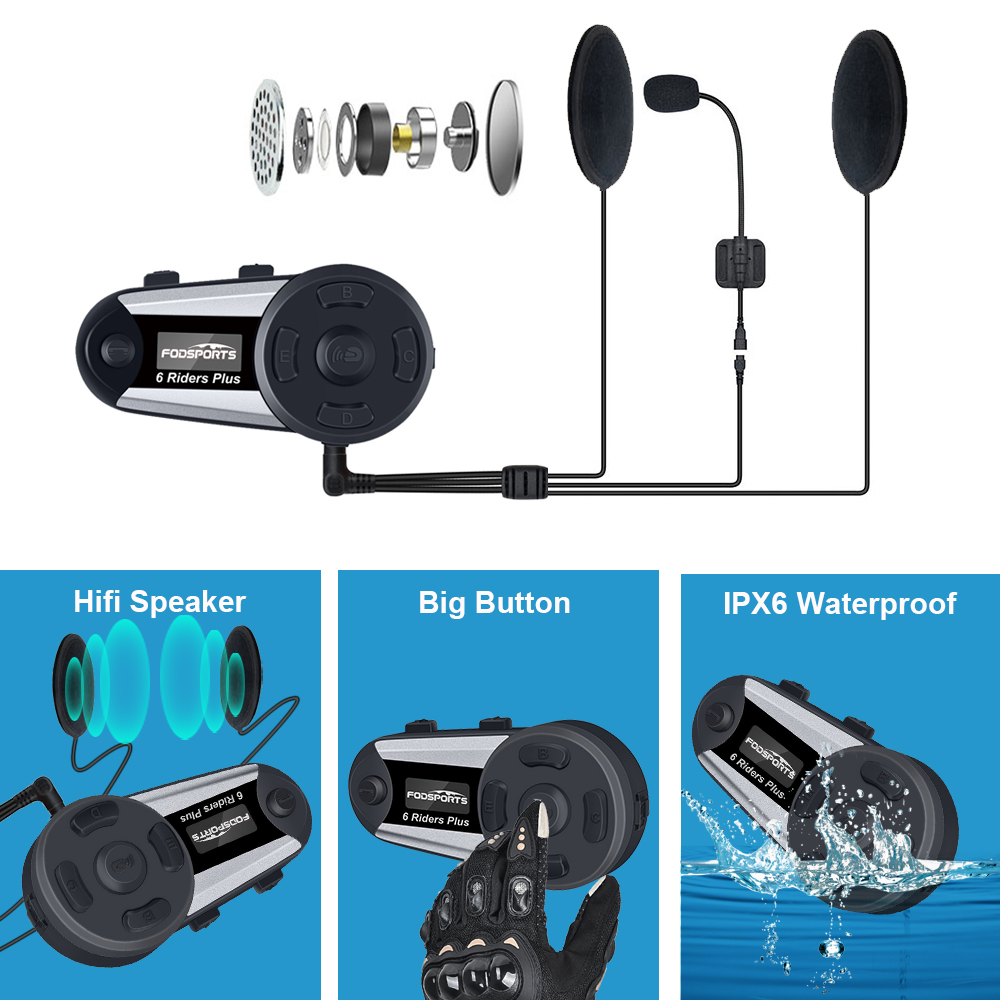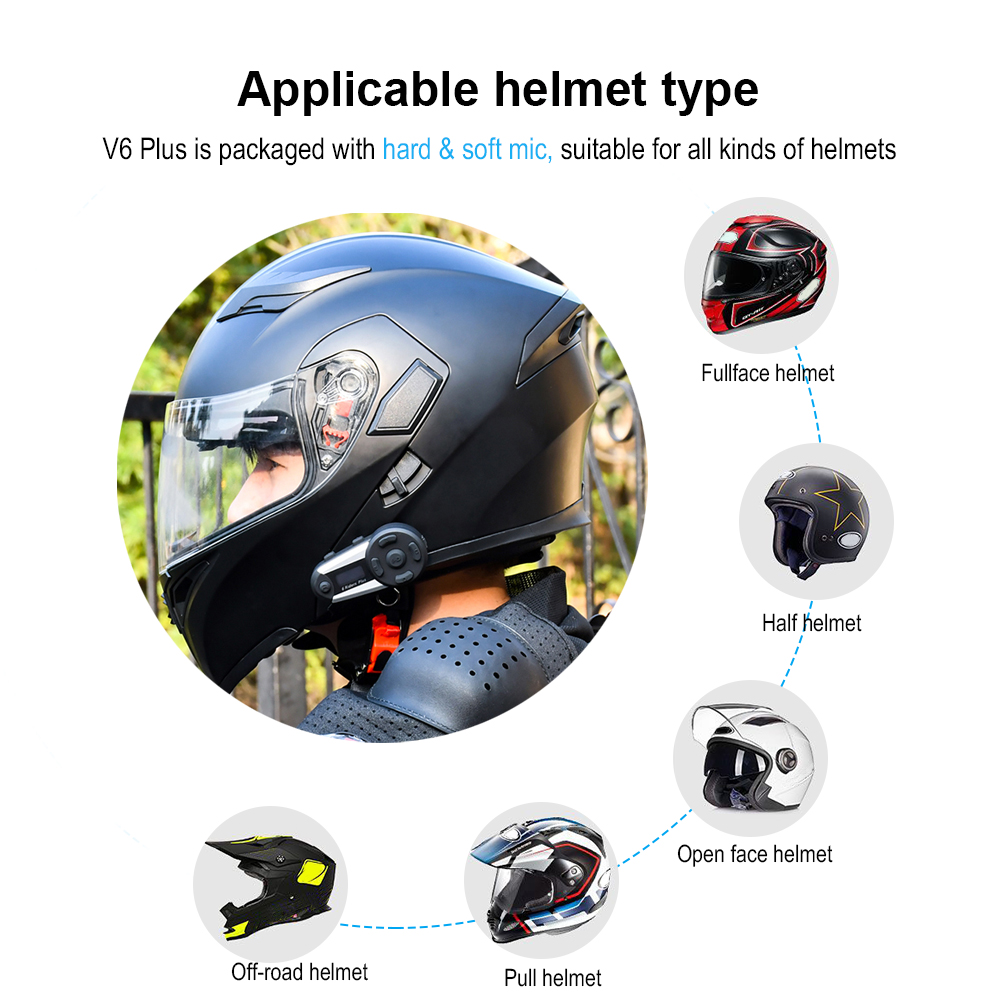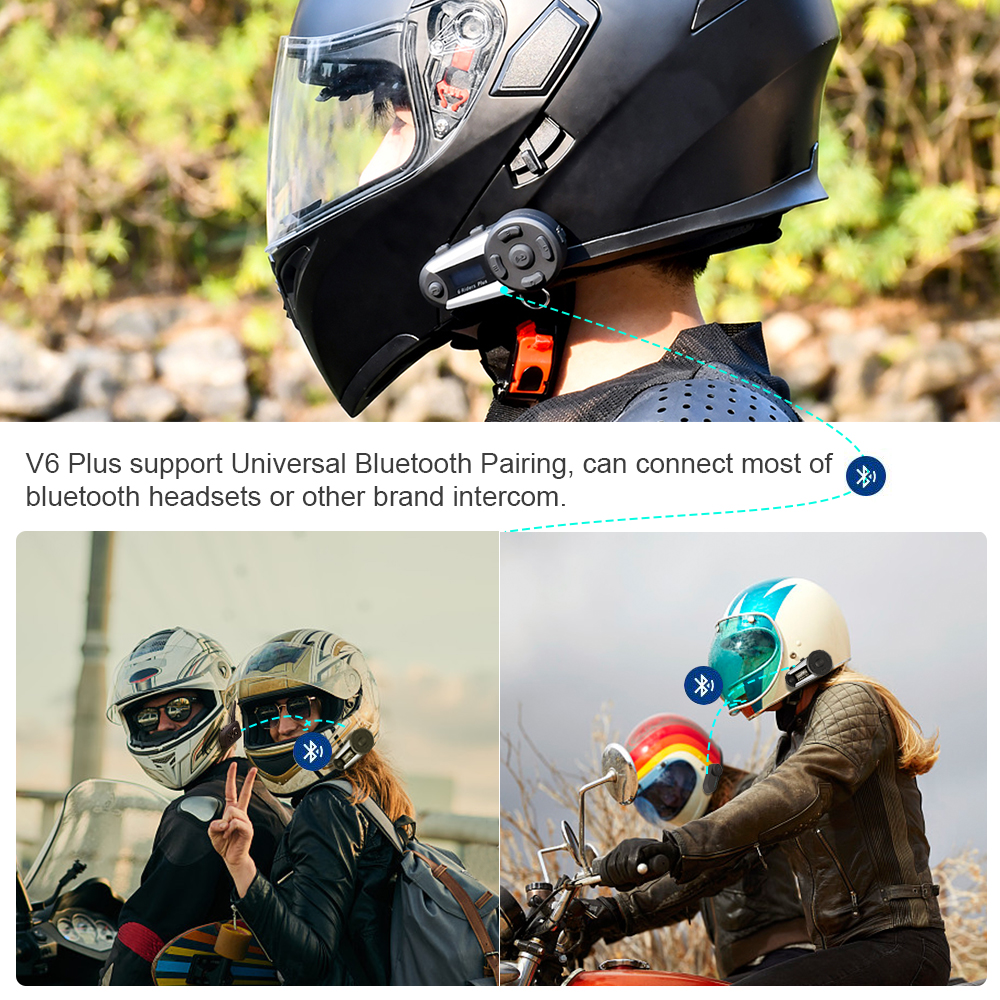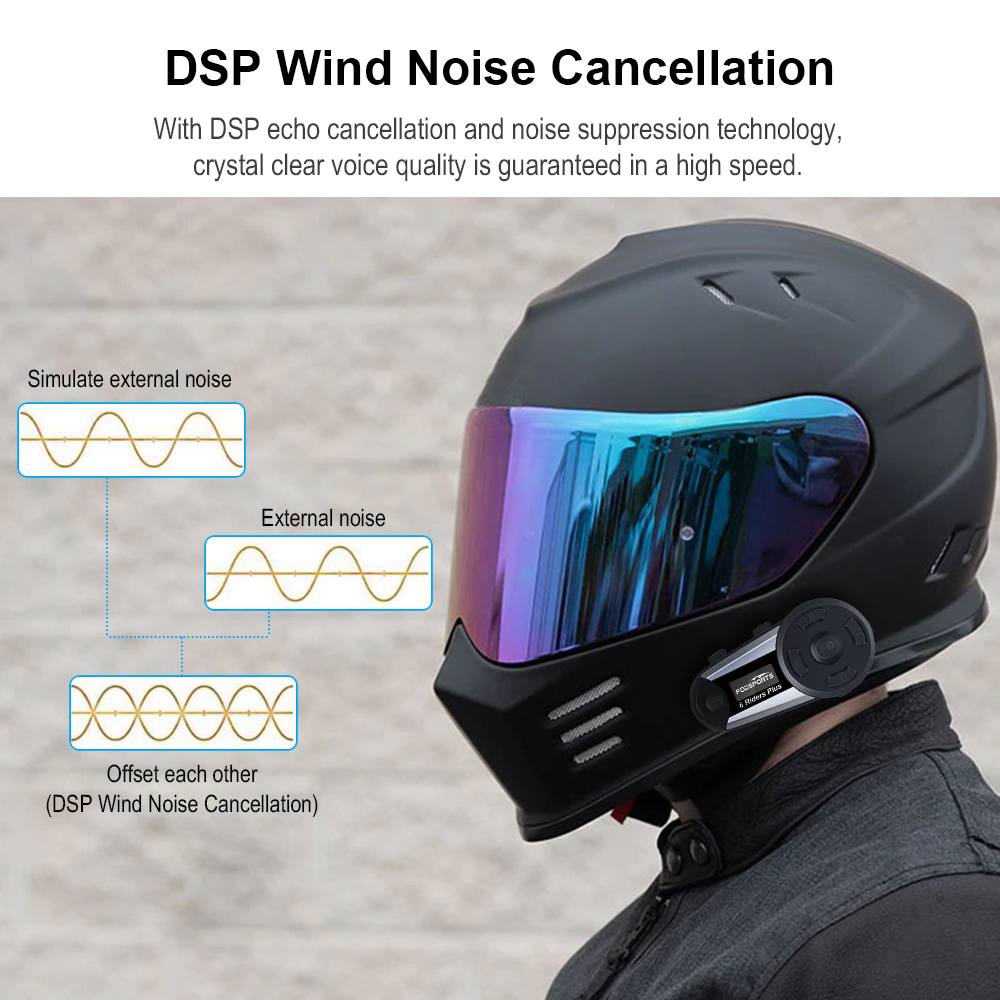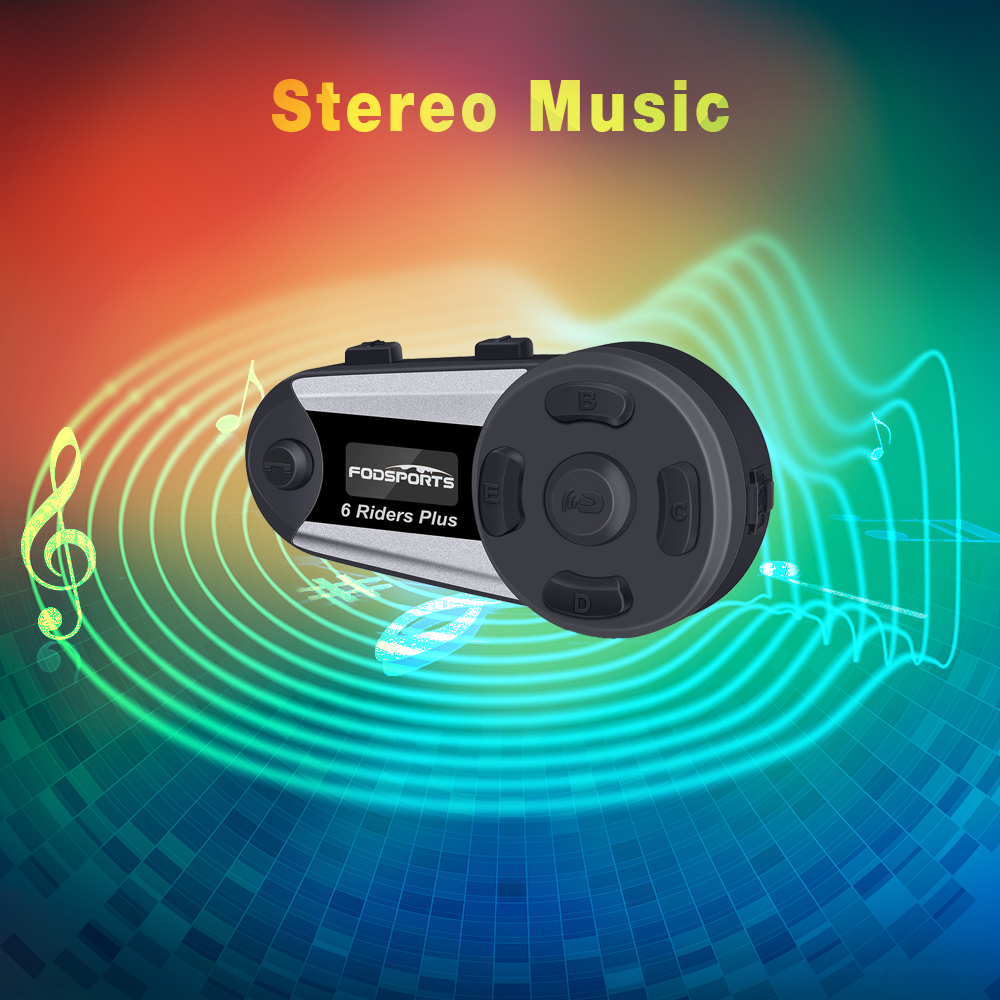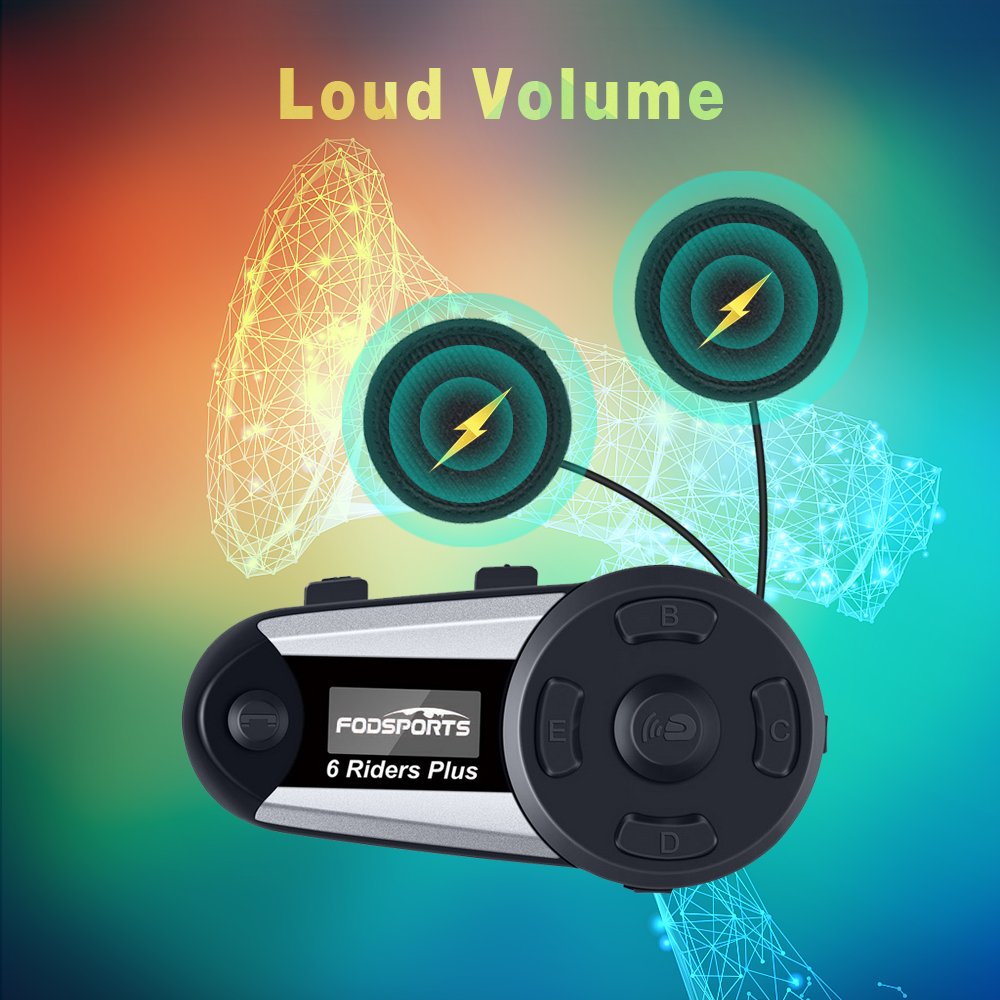 1x HIFI Speaker and Microphone(hard &soft)
1x User Manual