Review – 5 Manufacturers of Airbag Motorcycle Riding Protection Gear
---
In this review, Haul N Ride will provide a comparison between 5 manufacturers of Airbag Motorcycle Clothing and after careful review of each products features, will provide a rating out of 10. The following manufacturers will be included.
Dainese Misano D-Air
Spidi DPS Neck Airbag Safety Vest
Helite Turtle Airbag Vest
iXS Motorcycle Jacket Textile Stunt AIRBAG
Alpinestars Tech-Air System
Jackets – Vests – Suits
---
In order to compare motorcycle airbag clothing and body protection riding gear, it is necessary to have a good understanding of the products available and examine the various options.
These products are available in jackets, vests and full body suits. The full body suits are suitable for racetrack use only and will not deploy at low around town speeds. Therefore, this review will review and rate street jackets and vests only.
Tethered – Un-tethered
---
Another variation is tethered or un-tethered clothing.
Tethered will have a pull cord attached to the motorcycle, which would be potentially an inconvenience if getting on and off your bike often.
Un-tethered has the potential inconvenience of remembering to charge the batteries before riding.
1. Dainese D-Air Airbag Motorcycle Clothing – Un-Tethered
---
Product Overview
Dainese is an Italian company founded in 1972 by its current President Lino Dainese. The Italian Misano World Circuit racetrack is located next to the town of Misano Adriatico.
D-air® is a standalone (un-tethered) electronic airbag system for use on the road that only operates if integrated with specifically designed and certified Dainese protective garments. The system's 6 sensors, electronics and GPS are integrated in the Pro-Armor back protector.
The D-air® is an intelligent air bag system with a control unit that monitors the sensor signals 1000 times a second using a sophisticated triggering algorithm. Designed for the safety of riders, the activation algorithm enables the analysis of data information from the sensors and decides when the system needs to be activated.
Body Protection
The airbag is high-pressure inflated, anatomically shaped and has a volume of 4 liters. D-air® system works in synergy with existing protections to shield the following areas of the riders body:

Neck – Limits the inclination of the head in relation to the neck and reduces helmet movement during rolling
Shoulders – The system brings the extra shoulder protection of an airbag certified to the EN 1621/4
Chest – Protects the thoracic and sternum area of the body
Back – Protects the spinal vertebral column from impact
Collar Bones – D-air® system reduces the risk of direct helmet impact on the collarbones
D-air® system is designed to provide additional protection by recognizing and activating in the event of:

1. Frontal and side collisions – Impact on fixed or moving objects.

2. Highsides – Rider thrown from the bike as a result of rear wheel slide followed by a sudden recovery of traction.

3. Lowsides with or without tumbling – Loss of front or rear wheel traction followed by rider rolling or sliding.

Thanks to its intelligent algorithm, D-air® recognizes the violence of a fall and deploys, only if necessary, in the event of one of the accidents shown above. The system does not deploy for instance in falls at less than 10 km/h or in falls in which the dynamics do not demand the extra protection offered by the airbag.
Cyclone D-Air Jacket
The new standard for protection in the sport-touring world.

This jacket combines the ultimate standalone airbag system with the key features of Dainese's standard D-Cyclone – including a breathable waterproof GORE-TEX® 2L membrane, protective cowhide leather inserts, removable inner collar and thermal liner. The D-air® system includes Pro-Armor technology and now combined they deliver a superior level of protection.
To check the current price and grab yourself a Dainese Cyclone D Air Gore-Tex Motorrad Airbag Jacket: Visit Product
Misano D-Air Leather Jacket

Stylish racing sport jacket with 2 Front Pockets, Elasticized Inserts, waist adjustment made from cowhide leather, including chest, back and shoulder Armour. All Sizes Ship within 5-7 Working Days.
To check the current price and grab yourself a Dainese Misano D-Air Motorrad Leather Jacket: Visit Product
The Dainese Motorcycle Airbag Jacket offers great protection, but lost some points due to affordability and options. With neck, collarbone and back protection, this jacket will prevent you from serious injury and the risk of ending up in a wheelchair. Haul N Ride rating of 6 out of 10.
2. Spidi DPS Airbag Motorcycle Clothing – Tethered
---
Product Overview
Spidi DPS system represents the most advanced protection system for the rider's torso and neck. Spidi began to develop Airbag systems in 1996, introducing the first DPS Airbag system in 1998. Since then, the DPS Airbag system has been evolved in terms of lightness, activation time, protected area and many other functional details.

Its fully mechanical activation makes it an absolute reliable device, not requiring the use of batteries or electronics. The system is now available as a vest, jacket or riding suit, with different protected area dimensions.
Wear Over Your Gear
Spidi Neck DPS Airbag Vest is the original airbag vest to wear over your usual riding gear, is extremely light making it easy to wear and is ideal for every type of riding style.

DPS Vest is easy to use even over racing suits thanks to its back zipper for adjustment over racing humps. Groin straps and several Velcro adjustments guarantee great fitting no matter what kind of bikers' clothing is worn under it.
Product Details
Spidi have evolved the Neck DPS Airbag system by making it more user-friendly, light and efficient. A double cushion will wrap around the users neck area thus increasing the level of safety for such a delicate area in case of a crash.

The system will work along the helmet to reduce potentially damaging neck movements, while also increasing the tendency to roll on the ground and thus limiting potentially dangerous leverage situations against the terrain surface.
To check the current price and grab yourself a Spidi Motorcycle Safety Protection Neck DPS Tex Vest: Visit Product
Tethered Spidi Venture DPS Neck Airbag Motorcycle Jacket
Spidi has evolved the DPS system by making it more user-friendly, light and efficient. A double cushion will wrap around the user's neck area thus increasing the level of safety for such a sensitive area in the event of a crash situation.
This NECK DPS Waterproof Touring Jacket will work around the helmet to reduce potentially damaging neck movements, while the jacket will provide protection from potentially dangerous objects on the terrain surface. Equipped with this safety system, it offers great protection for all motorcyclists.
Spidi Venture H2out DPS Neck Jacket: This Three Layer jacket offers all year round touring and summarizes all the safety and comfort benefits of the Spidi product.
H2out Comfort
Riding warm and dry is maybe among the greatest expectations of every rider, but this quite often restricts the rider with heavy isolation linings. Much research has produced the Spidi Comforce line, a line born to preserve body temperature and to protect the motorcyclist from cold and heat. The innovative Motorsport advanced hi tech materials have been developed featuring approved CE standards and comfortable anatomic protectors.

Comforce offers exclusive features of panel-like construction, transpiration and thermo-wind protection. The materials used are hypoallergenic, anti bacterial, abrasion resistant and offer a better tech comfort.
All Seasons
BASIC – To ride in mild or hot  conditions.

THERMO – To ride in autumn like climate and mild-low temperatures.

PLUS – To ride in Nordic climate and low temperatures.

To check the current price and grab yourself a Spidi Venure H2Out Airbag Jacket: Visit Product
Although Spidi tethered jackets and vests only have neck airbag protection to prevent neck injuries, they have padding fitted in other sensitive areas to offer full upper body protection. With the all season three layer feature, this makes a great all year round touring jacket. For affordability, options, protection and integration with existing riding gear, Haul N Ride Rating 9 out of 10.
3. Helite Turtle Airbag Safety Jackets and Vests – Tethered
---
Helite Turtle riding gear is available in a both Jacket and an Over Jacket Vest
Product Overview
The next generation of motorcycle airbag systems on the market. The Turtle Technology have revolutionized the issue of safety in the Motorcycle Airbag sector. The quality back protector is attached as an impact-resistant outer material, like a turtle shell over the air bag.

The back protector also distributes force evenly in the back area to the entire airbag to be absorbed. Similar to a helmet, the new Turtle Technology airbags consist of a solid outer layer and a softer shock-absorbing material.
The Jacket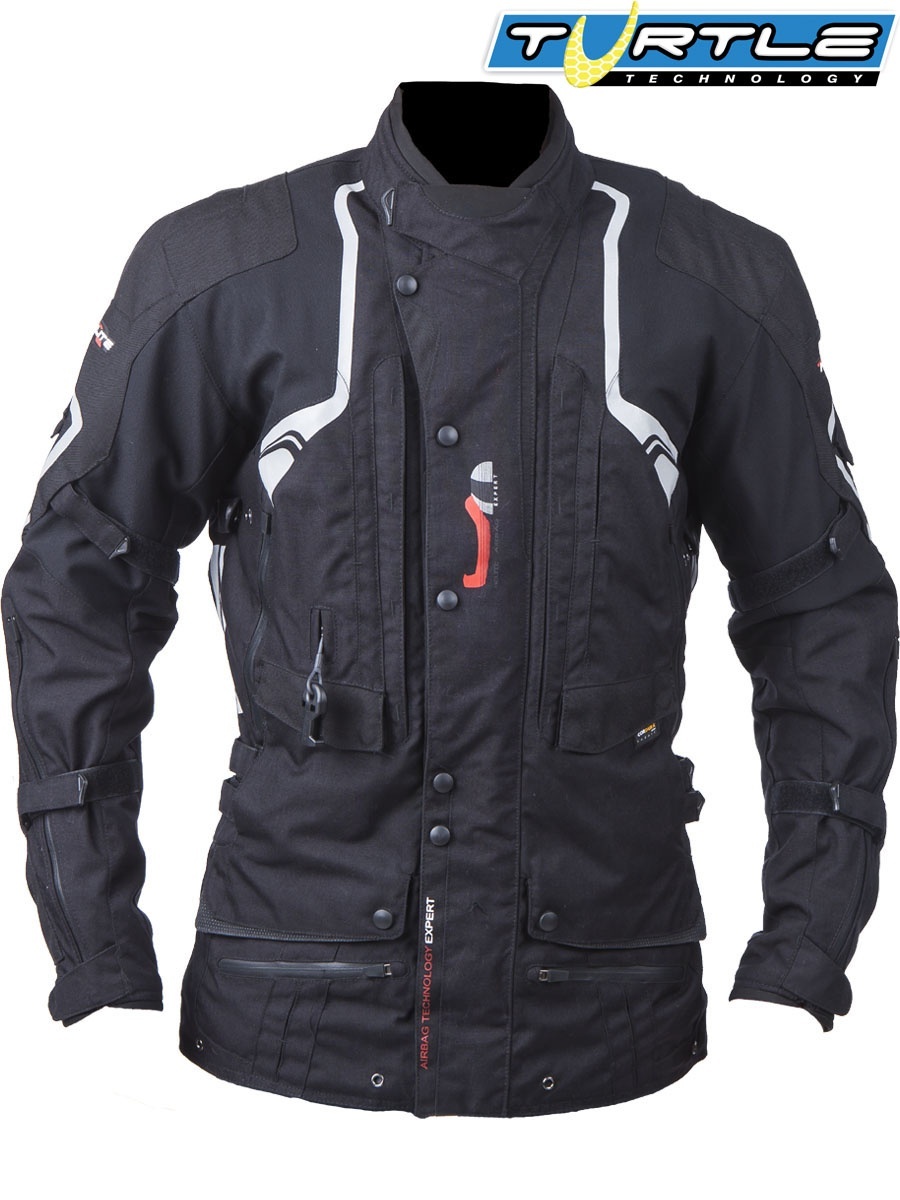 The Parka Inflatable Airbag Touring Jacket is a 3/4 jacket that can be worn in any season as it has a removable warm winter lining. Perfect for long trips and road trips, the touring motorcyclist has everything a good classic motorcycle jacket could offer. It has the added benefit of effective protection if you fall, due to its Airbag Turtle that fires in 0.1 second.
The Vest

The vest offers protection and peace of mind with complete air and maximum pressure after 100 MS. Certified to SAS-TEC EN1621-2, the vest is a comfortable back protector for your security. The 600 d outer fabric is very abrasion resistant. The vest provides over jacket comfort with large armholes for unrestricted mobility, a large locking mechanism and a 3D air mesh lining for optimum ventilation. It also has three individual width settings for a perfect fit.
Product Details
Multiplying the area of coverage and effective protection against point impact, the Turtle airbags have a technological advantage, especially in impact against pointed and sharp objects such as a guardrail, a road or a motorcycle part.

Conventional Airbag systems soften the speed of impact, but were unable to completely prevent point impact to the body, being pierced or damaged. This weakness has been resolved by the Turtle Technology.

The fixed back protector not only protects the airbag from damage, but also ensures that the forces acting on a small area can be absorbed exponentially better. Due to its extensive protector and the back parts are now protected, which previously had not been surrounded by an airbag.


Protecting Turtle Vest is So Much Better than Certification Requirements

In France, airbags with a load are inspected by a subject with a 130 mm diameter to get a certification. The review indicated that the load at the turtle airbag was even 4 times better absorbed than with a standard airbag. The smaller the impact area becomes, the greater the force acting on that area.

The Turtle Airbag more clearly offers improved protection when compared to a standard airbag.
To check the current price and grab yourself a Helite Turtle Safety Airbag Vest: Visit Product
To check the current price and grab yourself a Helite Touring Turtle Inflatable Motorrad Airbag Winter Jacket: Visit Product

 
To check the current price and grab yourself a Helite Touring Turtle Inflatable Motorrad Airbag Jacket: Visit Product
To check the current price and grab yourself a Helite Xena Woman's Airbag Inflatable Motorrad Leather Jacket: Visit Product
Helite Turtle have manufactured affordable vest and jacket options with protection in some important body locations. I would have liked to see chest, waist and neck protection. Compared to non-airbag clothing, the Turtle will offer greater peace of mind. Haul N Ride rating is 6 out of 10.
4. iXS Motorcycle Textile Stunt AIRBAG Jacket – Tethered
---
Product Overview
The airbag has been proven to be the most effective safety system for road users and was previously reserved only to other motorists. The IXS jacket stunt now makes the extra safety of an airbag available to motorcyclists.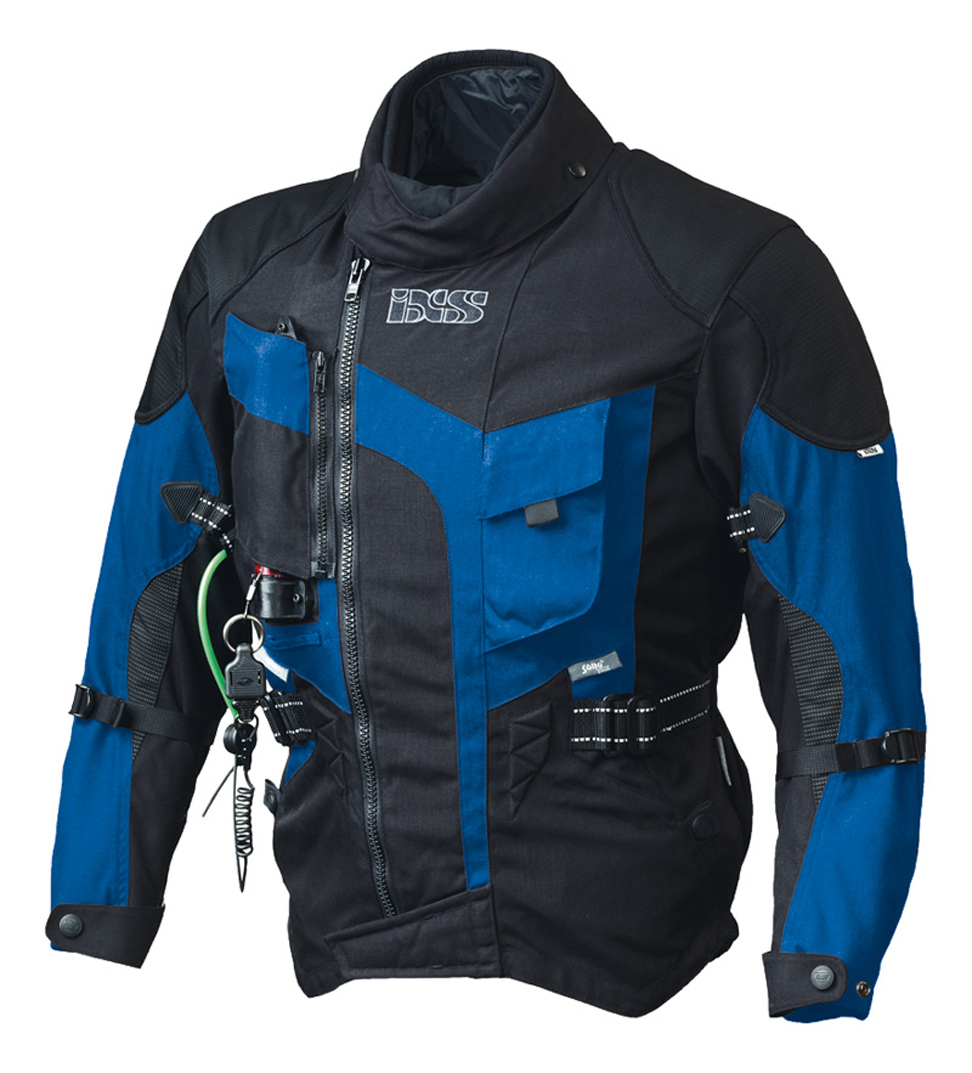 The integrated technology in the jacket airbag is deployed by means of a ripcord attached to the motorcycle. The trigger mechanism activates a CO2 cartridge to inflate the airbag within 0,5 seconds.

The airbag remains inflated for 30 seconds for maximum protection of the neck, spine, sternum, kidney area and coccyx of the motorcyclist.
On Sale Bargain Price – IXS Textile Jacket "Stunt" with airbag



To check the current price and grab yourself an iXS Motorcycle Stunt Airbag Jacket: Buy Jacket
The iXS Airbag motorcycle jacket has ticked a lot of boxes. Offering affordability and protection in body locations the other jackets cannot. Kidney and waist protection is an added bonus for peace of mind. Haul N Ride rating 7 out of 10.
5. Alpinestars Tech-Air System – Un-Tethered
---
Product Overview

The final manufacturer in this motorcycle airbag riding gear review is the Alpinestars Tech-Air airbag system.

A well trusted and well-known brand across the world, Alpinestars are well-known for what they do. From a small Northern Town in Italy, to a global market leader, the company has gone from strength to strength whilst keeping quality and innovation their focus. From outfitting countless world champions both past and present, the legacy of Alpinestars is woven into every garment and the quality speaks for itself.

Tech-Air™ is the world's first self-contained street airbag system that independently functions without the need for sensors to be installed on the bike and the subsequent need to link a specific motorcycle to the airbag system used by the rider. This means that Tech-Air™ offers the freedom to ride any bike on any surface at any time.


Offering instantaneous, high-pressure inflatable protection Tech Air gives the rider comprehensive protection in a crash by covering the full back, shoulders, kidney areas and chest. Alpinestars Tech-Air Valparaiso Motorbike Jacket with Air Bag is available in both men and women's.
Product Details

The Tech-Air™ street airbag is incorporated into a specially designed vest, which is then attached within and used in conjunction with a compatible jacket, allowing the Tech-Air™ System to be used, interchangeably, in all weather conditions.

Alpinestars Tech Air compatible motorcycle jackets provide formidable all-weather, street /
adventure touring jackets which incorporate a waterproof and breathable DRYSTAR® membrane and offers superb comfort levels thanks to its Jet Ventilation System.


Specially developed to be fully compatible with Alpinestars groundbreaking Tech-Air airbag system, jacket construction has been developed to accommodate the larger volume of the airbag should it be required to be deployed, achieved through the latest materials and construction techniques, plus a wide range of strategically placed stretch panels – as when inflated the Tech-Air system protects the back, kidney areas, chest and shoulders to provide superior upper body protection whilst riding on or off-road.

Please note: The Tech-Air® System is sold separately, so you will have to combine the jacket cost with the airbag cost when comparing with other brands.
To check the current price and grab yourself an Alpinestars MISSILE Leather Jacket (Tech-Air Compatible):  Visit Product
To check the current price and grab yourself an Alpinestars Oscar Charlie Tech-Air Leather Motorcycle Jacket: Visit Product
To check the current price and grab yourself an Alpinestars Motorbike Tech-Air Valparaiso Textile Drystar Jacket: Visit Product

 The rechargeable battery makes the Air-Tech completely independent
without the need to be tethered to the motorcycle.

Alpinestars Tech-Air Street Vest
The Tech-Air™ Street System has been designed to be used in conjunction with airbag-compatible outer  jackets.

New Alpinestars Tech Air Street Vest – Black

Size L, M & XL: Visit Product
Alpinestars Tech-Air System has the advantage of being transferred to other compatible jackets. This future proofs your investment and allows you to change jackets.

Offering protection in all sensitive body areas and being untethered, Haul N Ride Rate this product 7 out of 10.
Other Options
---
To check the current price and grab yourself an Airnest Air bag Motorcycle Protect Vest Hi Viz Yellow: Visit Product
To check the current price and grab yourself a Bering Motorcycle Airbag Vest: Visit Product

This is truly an innovation that will save lives and make riding a motorcycle an enjoyable experience. If you are unsure whether you should purchase a motorcycle airbag jacket or vest, and would like some real stories of the benefits of airbag jackets, take a look at Brian's Story and Graeme's Story.

Now the task of selecting the correct jacket or vest will be a lot easier and locating the best fit for your personal need. To protect yourself even more and have complete peace of mind, visit Rear View Helmets – Rear Vision Inside Your Helmet…
Haul N Ride website was created to explore Innovation and Human Creativity with a focus on Interesting, Rare and Unusual Motorcycles and Accessories. Haul N Ride welcomes the sharing of projects and ideas, creating an enjoyable and educational online resource. We like to hear from readers so please leave a comment below and let us know if this post helped you or if you have any questions.

Thank you for visiting Haul N Ride. Dave